The VHF was primarily designed to utilize high density, processed fuels like woods pellets. However, this system is capable of operating on coal and other high BTU content fuels. The VHF Hand Fired Hybrid boiler was also designed to be compact for existing building applications. In most cases, this hand fired style Solid Fuel Boiler design can be installed within the same footprint as your existing packaged gas/oil fired boiler.
The VHF Hybrid Boiler is available in 5 Base Model Choices:
50, 100,150, 200, 250 HP, in both Steam and Hot Water Systems with steam pressures of 15 PSI up to 150 PSI & 30 PSI Hot Water up to 60 PSI Hot Water.
Units are available in both Vertical Hand Fired & Vertical Stoker Fired configurations.
Due to the VHF Hybrid Boiler's vertical modular design, it is ideally suited for export applications where container shipment may be applicable or necessary.
All Hurst VHF, Hand Fired, Hybrid and Stoker Fired boilers are designed to utilize the Carbon Neutral Energy benefits of Biomass fuels.
Steam and hot water designs up to 250 boiler horsepower, or 8 MMBTU's/HR
Steam pressure to 150 PSI, hot water pressures up to 60 PSI
Hand fired and stoker fired furnace
Extra heavy duty boiler design for heavy duty performance and longer life span
Ease of installation
Low cost operation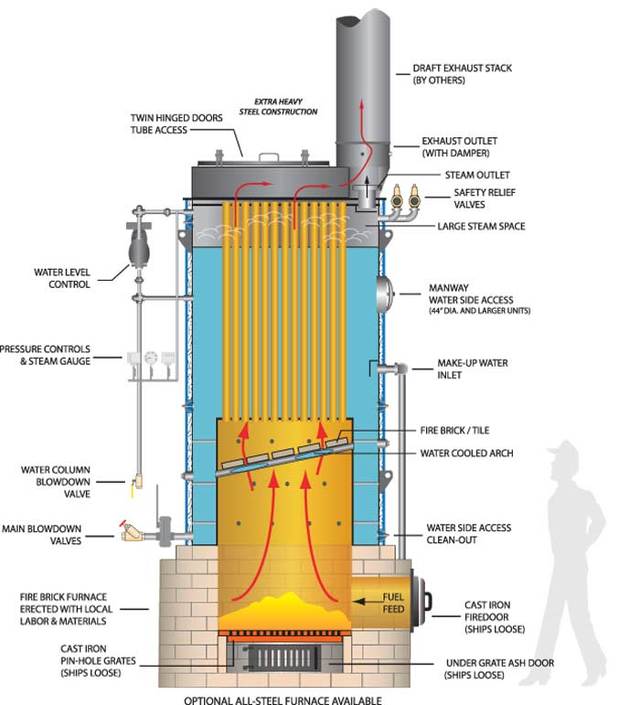 VHF Series Boilers Downloads
Boiler Fuel
VHF Series can burn biomass fuels, woody fuels, forestry residues, mill residues, agricultural residues, urban wood and yard wastes, dedicated biomass crops, chemical recovery fuels, animal wastes, dry animal manure, and wet animal manure (dairy manure slurry).