MBTU/HR:
201-3,450MBTU/HR
The compact, space saving vertical four-pass shock-proof design has no tubes to loosen or burn out. The Hurst Vertical Tubeless Industrial Steam Boiler allows convenient access to "eye high" burner and solid-state controls for trouble free operation. Factory assembled and fully automatic. UL and ASME CSD-1 approved. Simple and inexpensive to install.
Inspection Access
The waterside openings are located in the most effective positions. The lower handholes offer far better access for both cleanout and inspection.
These more functional locations avoid the obstructing handhole "tunnels" used by our competitors.
The top opening offers a strategic view of the furnace crown sheet.
4VT Cyclone Steam Boiler Provides More Steam Storage
Capacity to handle swing and spike loads – quick recovery – quick response.
The larger steam-release surface is calmer, reducing carry over of unevaporated water.
The resulting drier steam also reduces system scaling.
In addition, dry steam helps to eliminate unnecessary extra condensate. Energy and fuel are saved. Longer life results.
4VT Cyclone Steam Gas Boiler Four-Pass Design
The gases leaving the furnace are split four ways and travel through four individual serpentine fin passages to the stack outlet.
Each quarter of the heat travels its own four-pass path (see illustration below).
Heat transfers evenly to the fins and boiler shell, eliminating the metal stress due to uneven heat transfer common in other designs.
This illustration shows the progression of four gas paths around the circumference of the boiler shell.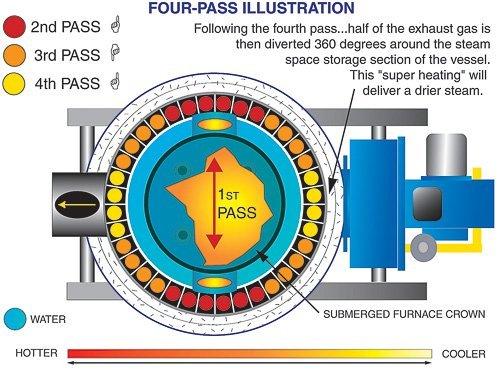 Primary-pass in furnace pipe.
Second-pass follows path through fins along outside of shell.
Third-pass follows path through fins along outside of shell.
Fourth-pass follows path through fins along outside of shell, then merges together to exit exhaust stack.
Options and Alternatives
We specialize in customizing your boiler. The Cyclone can be equipped to suit a wide variety of installations and specifications. We will help direct you to the most cost-effective models and features.
Simple Installation
Unit is skid mounted for easy handling.
Factory wired with wiring schematic included in the manual.Efficient and space saving layout.
Available Accessories
The Cyclone is available in a complete package with an optional compact boiler-mounted feedwater system for a finished wired and piped, ready-to-fire unit.
Blowdown separators are also available.
Turbulent Flame
Heat is forced down, with the fire whirling and spinning against its natural flow. This pattern enhances recirculation, mixing and heat transfer, driving more energy into the water for greater fuel-to-steam efficiency.
4VT Cyclone Industrial Steam Boiler Reliability
The furnace crown is water cooled, eliminating troublesome refractory breakdown inherent inunits of inferior design.
No fire tubes, water coils or "in the fire" mud rings to burn out.
"Eye High" Burner
No step ladder is needed to service.
No bending over or sitting on the floor.
The air intake is located in the center of the unit so dust is not pulled from the floor.
4VT Cyclone Steam Gas Boiler Durability
Fire does not pass under the bottom mud ring, eliminating the blistering that occurs with other designs.
Cooler furnace gases are located at the bottom of the vessel where scale is most likely to occur. Baking of scale is alleviated.
Easier Service
Fireside fin access in top and bottom.
Access opening above feedwater inlet for easy cleaning.
Thoughtfully engineered with the owner in mind.
No heavy doors or covers to complicate service procedures.
4VT Cyclone Industrial Steam Boiler Safety
Electrical components are located away from the floor, helping eliminate the possibility of water coming in contact with electricity.
Boiler built to ASME Section 1, High Pressure Boiler Code.CSD-1 approved.
Burner/Boiler UL Packaged.

Arizona Boiler is one of the largest boiler companies. We are licensed, insured and bonded; and one of the few boiler companies that is ASME R Stamp certified welder boiler repair company. As one of the most trusted boiler repair companies, Arizona Boiler also has high quality used boilers for sale.

We also provide boiler tanks for sale and boiler operator classes.

As one of the oldest boiler companies, AZ Boiler has been providing new boilers, rental boilers and 24 hour emergency boiler repair services in and around Peoria, 30 minutes Northwest from Phoenix, Arizona, USA.
4VT Cyclone Steam Boiler Downloads