FDR(X) Features
Low combustion air velocities for balanced air distribution
Multi-fuel models work with a broad variety of fuels
Wide choice of burner arrangements
Heavy duty construction for decades of reliable performance
Less than 30 ppm NOx emissions with optional FGR
Flame shaping and primary air register adjustment from outside the windbox
Thorough combustion, lower fuel and energy consumption
Burner mounted or remote control panels
Webster's FDR(X) burners are available in single or multifuel models. Among the list of fuels that can be burned are natural, LP, coke oven, refinery and low BTU gases, as well as fuel oils ranging from diesel fuel to heavy viscous fuels such as No. 6 oil, on up to asphalt and tail oils.
The Webster FDR(X) burner air register is housed in an industrial grade windbox constructed of mild steel with a minimum thickness of 1/4". Each windbox has an access door for easy maintenance. FDR(X) units are designed for low combustion air velocities, permitting balanced air distribution to the burner. Fuel piping trains and operating components are mounted on the windbox and pre-wired to the central control panel. The easy addition of Flue Gas Recirculation (FGR) allows for most applications to achieve less than 30ppm NOx emissions.
The Webster register is a multi-vane, circular assembly using curvature designed louvers for precise distribution and control of high volume combustion air. By adjusting the register door positioner, the air can be rotated either in a clockwise or counter clockwise direction. This rotating combustion air creates a thorough mixing of the fuel and air before it enters the combustion zone, resulting in complete, efficient combustion with low excess air. Single zone air registers are used on units up to ~120 Million Btu/Hr. Above that firing rate, dual zone registers are utilized. A hinged access door is provided on the registers to permit easy access to the interior of the register assembly.
Custom Engineering & Flow Modeling
Webster Combustion is accustomed to working on custom engineered solutions, and our sales applications and engineering department are ready to assist with complex applications. As part of our design and engineering process, we have the ability to use Computational Fluid Dynamic (CFD) modeling to predict product performance or adjust product design prior to burners being installed in the field. Whatever the application, Webster is ready to work with you for the best combustion solution possible.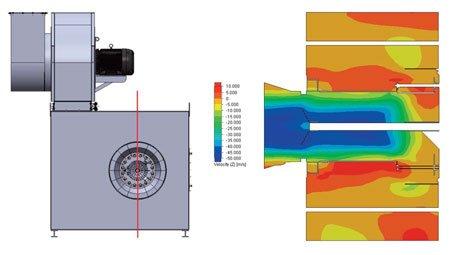 Most models of the FDR(X) are available with either an internal or external gas ring. The internal ring is standard unless certain job site conditions exist, such as contaminated fuel, high combustion air temperatures or use of multiple fuels. The precision-drilled gas tips are accessible on both the internal and external designs. The unique design of Webster's FDR(X) burners allow for adjustment of the primary air register setting from the outside of the burner, without shutting down, pulling the burner, or accessing the inside of the windbox, thus enabling precise flame length, shaping, and adjustment during operation.
Webster also supplies either BMS (Burner Management System) or CCS (Combustion Control System) control systems, for virtually any project to meet the demands of our customers. These systems can be fully metered PLC based control systems, or parallel positioning, depending on the project. Whatever the requirement, Webster will provide reliable controls that fit your specifications.